The CASEE Board and the Slovak University of Agriculture in Nitra
have the pleasure of inviting you to the
6th CASEE conference
"Latest Trends in Bioeconomy in Danube Region"
24th – 26th May, 2015
Slovak University of Agriculture in Nitra, Slovak Republic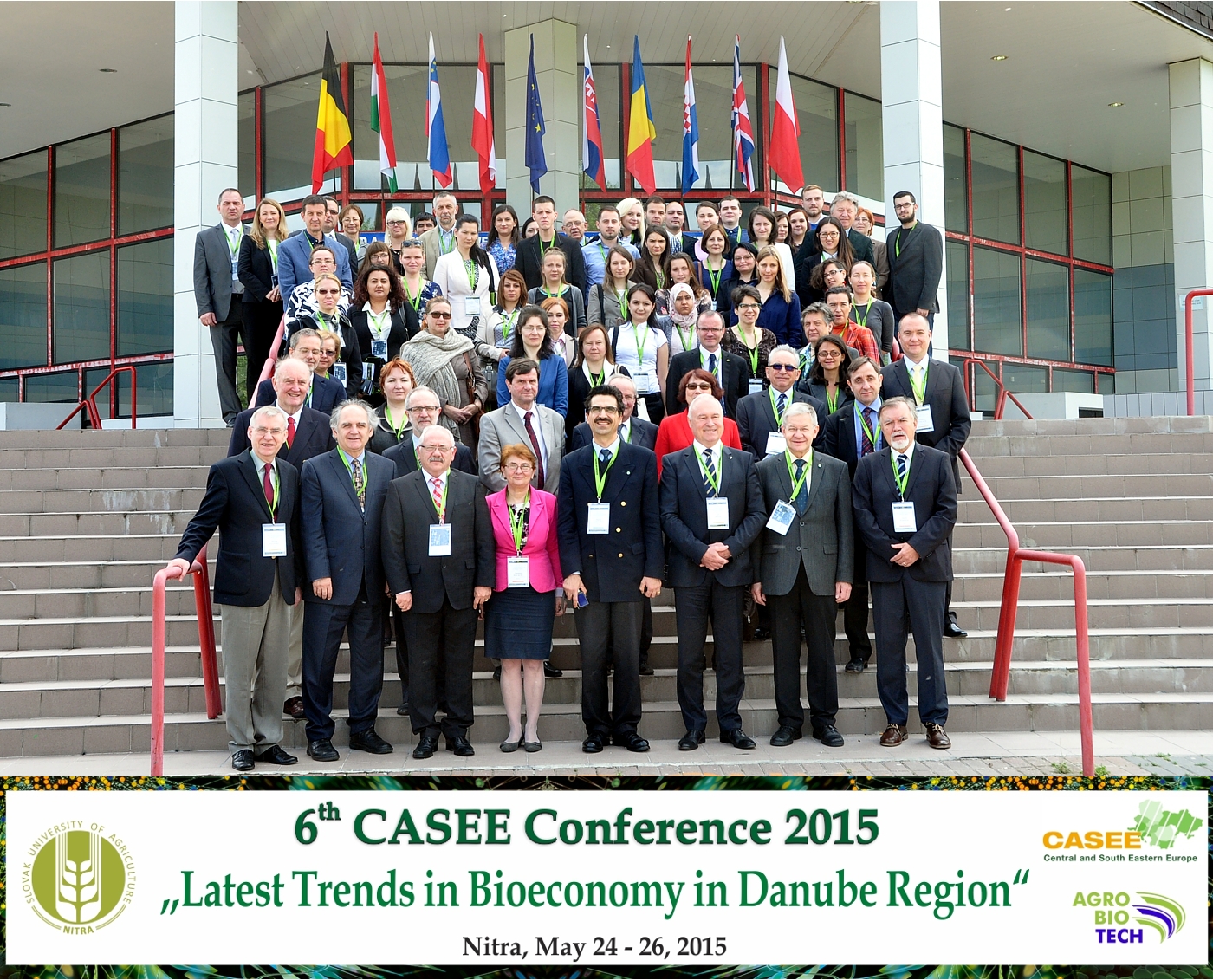 FIRST CALL
Agrobiological sciences encompasses a wide variety of subjects, particularly those regarding the relationship between humans and the environment. This includes sustainable development, biodiversity conservation, plant breeding, soil science, bioresource engineering, weed science, as well as agricultural economics and ecosystem management. In order to sustain the growing population, we must effectively manage the planet's natural resources. Understanding of agrobiological systems are key to humanity's continued development. Also scientific programme of conference will designed to cover all aspects of biotechnology, including environmental and green biotechnology, microbial biotechnology, microbial synthetic and systems biology, biochemical engineering, medical biotechnology, biomedicine and much more. One from the primary goal of the conference is to promote research and developmental activities in Nutrition and Food Sciences. The conference will provide excellent opportunity to network, share ideas and form partnerships with: agrobiology, biotechnology and food associations, learned societies in agrobiology, biotechnology, foods research institutes, universities. Another goal is to promote scientific information interchange between researchers, developers, engineers, students, and practitioners working in Danubian region and other European countries.
Section and subsection
Agrobiology
Soil and Water Management,
Crops Science and Biodiversity
Organic Agronomy
Animal Production, Hygiene and Welfare
Agriculture Economics and Agribusiness Management
 
Ecology
Energy, alternative energy
Waste Resource management
Horticulture and Landscape Architecture
 
Biotechnology
Biotechnology and biomedicine
Trends in biotechnology
 
Food Science
Food science and nutrition
Food safety and security
Food innovation and processing
 
You are welcome in the most historical city in Slovakia. Nitra is one of the oldest town settlements in Slovakia. As early as the 9th century, it was a princely seat and bishopric of the Great Moravian Empire and later it welcomed the pretender to the throne of Hungary. In 830, the first Christian church in Slovakia saw the light of day there. Nitra became an independent royal town in 1248. It suffered from several Turkish invasions. Nitra is city of Young people. Two university Slovak University of Agriculture and University of Constantine Philosophy provide young life in the city with many social activities.
Looking forward to seeing you in Nitra
Conference web site: www.casee2015.uniag.sk
CASEE Network web-site: http://www.ica-casee.eu
DEADLINE FOR REGISTRATION: April 15th, 2015
© 2015.  Slovak University of Agriculture in Nitra

Save to PDF